International PharmaNEST'21 on April18
Virtual Talent competition: Five Competitions and webinars participants to win prizes worth Rs. 10.51 lacs.
New Delhi – April 6, 2021 – During these unprecedented times of a pandemic, the Operant pharmacy Federation (OPF) has decided to uphold an international virtual conference to reach a maximum number of working professionals of the various industries and explore the various strategies towards development together; hence the event will be conducted on an E-platform from April 18 to 26.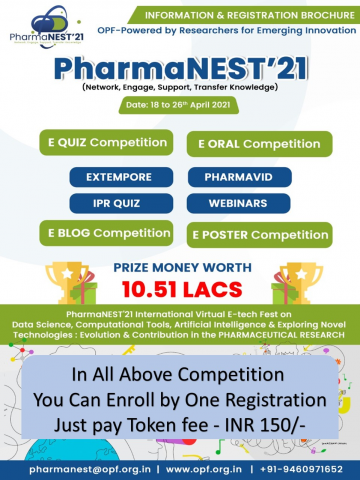 Founder director of OPF Mr. Vikram Chaudhary pointed out that this year international experts will deliver webinars during this virtual e-Tech Fest in the healthcare sector is focused on the novel technology, data science, artificial intelligence, computational tools and pharmaceutical research in the new technology revolution and healthcare startup etc.. We are also going to conduct five competitions, for which the interested persons has to register online and take part in the various competitions.
In this event in Pharma Regulatory bodies, Academic Research Universities, Pharmaceutical & Biological companies and more than 20 Healthcare Institutes are taking part and also supporting to give away prizes worth of Rs. 10.51 lacs to the winners of the various competitions during the International PharmaNEST'21.
The organizing committee of patrons, Bangladesh's Integro Pharma Ltd. company's CEO Dr.Zarine Dilewar Hussein and Operant Pharmacy Federation director of Vikram Choudhury pointed out that on the international learning platform, national and international students and researchers of the Pharmaceutical Science & development will get chance to have live dialog with the experienced entrepreneurs. Because of this, the participants will also come to know futuristic new opportunities available in the healthcare sector.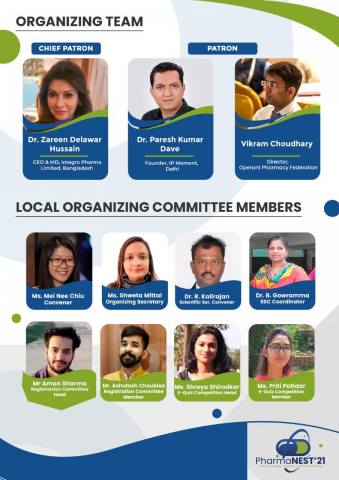 WORLD IP DAY WEBINAR ON APRIL 26
Organizing Secretary Ms. Mei Ni Cheyui and Shweta Mittal said that on this virtual e-platform the participants can express their thoughts on various parameters on the public health and safety in this COVID-19 pandemic time. Further on April 26, World Intellectual Property Day is also going to be celebrated during the PharmaNEST event. On World IP Day, special webinar is going to be held and IP experts from India, USA, Japan and the Philippines will provide latest development in the IPR field. From April 21 to 25, E-quiz, E-blog, and E-poster competitions are scheduled.

ACADEMIC PARTERNERS
PharmaNEST'21 has also academic partners, such as Chitkara University, Parul University, D Y Patil (Deemed to be) university, and GPAT discussion center. Moreover, Aatish Management Consulting company is also joining with PharmaNEST'21 as a placement partner. Partnership with Aatish Management Consultancy is going to provide a good chance for the students to know the various vacancies available in the field and also get a chance to get selected.

A REVOLUTION IN PHARMA RESEARCH-OPF
Dr. Pareshkumar C. Dave, Director and IPR Specialist, IP Moment, expressed that OPF is a scientific community with international recognition for biomedical and pharma studies. It aims to recognize Indian research in global health care. OPF is primarily focused on research, wellness, and community pharmacy. Scientific Service Convenor Dr. R. Kalirajan said that research papers presented in the event, out of which selected papers will be published on the online international platform.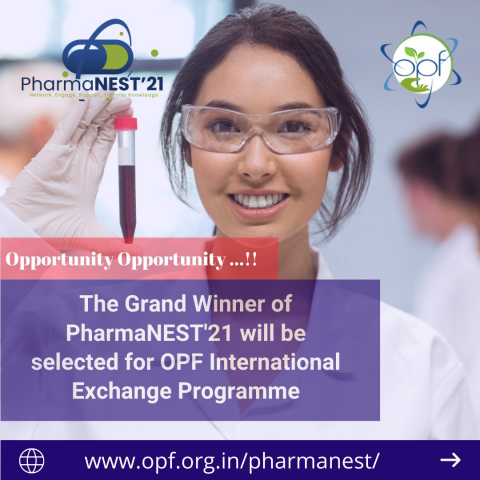 Media Contact
Company Name: Operant Pharmacy Federation
Contact Person: Vikram Choudhary
Email: Send Email
Phone: +91 94609 59052
Country: India
Website: www.opf.org.in