Sony Orchard Recording Artist Brauni, In Collaboration With Navy Veteran And Motown's 'The Miracles' Prodigy B. Taylor, Release New Single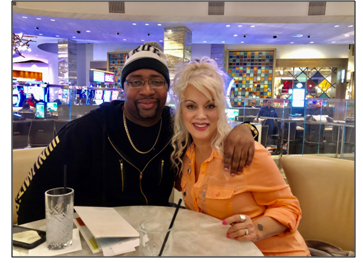 Nashville – Award-winning singer and songwriter turned Adult Contemporary, Jazz, and Country recording artist Brauninger, or 'Brauni' for short, has released her newest single: a remake of the legendary 1971 hit "It's Too Late" by Carol King. In the wake of a recent signing with 50/50 Global Muzik Record Label, in partnership with BMG Publishing and Sony Orchard Music, the single is receiving noteworthy buzz on airwaves across the country.
Set on delivering a creative work up to par with the original hit song, Brauni sought out the expertise and creativity of multi-award winning artist, songwriter, and producer B.Taylor for collaboration on the remake. Taylor celebrates a very long list of achievements, and as a seasoned industry veteran has worked with Chris Brown, Ray J, Snoop Dogg, Flo Rida, star actress Pauley Perrette, and many more. B. Taylor writes "In this crazy year with the pandemic, racism, inequality, and so much negativity going on it felt good to forget about race and come together with a great talented person such as Brauni. She is a good person, an awesome singer, and such a motherly figure".
While deemed "A Global Ambassador of Entertainment for the U.S. Military, Veterans, First Responders, and Their Families", B. Taylor is also a decorated Navy Veteran and philanthropist. His aforementioned title well holds its own weight through the actions of his nonprofit, "1 Life Organization". With a mission to help active-duty military, veterans, first responders, and their families, Taylor's organization supports these heroes by offering resources to help fight the ailments of PTSD, suicide, depression, TBI, and combat-related issues.
Besides being an auntie to prominent gospel singer Wess Morgan, Brauni's enjoyment as a music artist lies in writing and performing her music. Brauni says "I hope to relate many of my own experiences and those of others, through my music. Hopefully, it will help them to be inspired and empower them to live a more peaceful, abundant, and spiritual life. Working with my friend and the super talented B.Taylor has been a joy."
Listen to 'It's Too Late' On Spotify
Media Contact
Company Name: SI Management
Contact Person: Media Relations
Email: Send Email
Phone: 917-626-5183
Country: United States
Website: https://open.spotify.com/album/6R8sWvkyY6kwwzjniHfi4D