"Level the Playing Field" (Author Vijayan Pillai) is a complete health guide on diet, yoga, cardio, strength training and more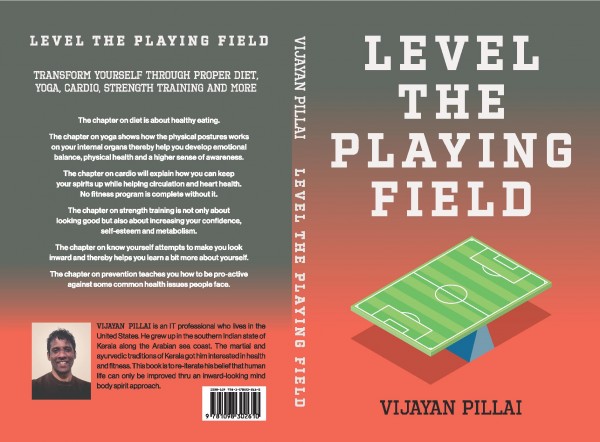 Vijayan Pillai is an IT professional, who lives in the United States. He grew up in the southern Indian state of Kerala along the Arabian Sea coast. The martial and Ayurvedic traditions of Kerala fuelled his interest in health and fitness. "Level the Playing Field", which contains the essence and essentials of health practices, attempts to re-iterate his belief that human life can only be improved through an inward-looking mind, body and spirit approach.
Book covers important health-related topics such as diet, yoga, strength training, cardio, etc. There are in all, six chapters in the book; each chapter discuss the essentials in a specific area. Chapter one is on 'Diet' and it discusses best practices, nutrition and fasting among others. The chapter on 'Yoga' shows the impact of different physical postures on your internal organs and how they help you in developing emotional balance, physical health, and a higher sense of awareness. This chapter is a highly recommended read for health enthusiasts.
The chapter on 'Cardio' will explain how you can keep your spirits up while helping proper circulation and heart health. The chapter on 'Strength Training' is not only about looking good but also about increasing your confidence, self-esteem, and metabolism. The chapter on 'Know Yourself' attempts to make you look inward and thereby, helps you learn a bit more about yourself. The chapter on 'Prevention' teaches you how to be pro-active against some common health issues that people face.
This book helps in the maintenance of health and personal growth.
"Those who want to dissect their personality; the book does a peek into the psychology of astrology and also helps understand the personal to universal connection" Vijayan Pillai says while discussing his book, "Level the Playing Field". This book covers practices that bring physical and psychological health. "Physical health to a large extent depends on the psychological health of a person and vice versa," Vijayan adds.
This book is a must-read for those people who lack physical and emotional drive. Also, this book is highly beneficial to people, who are recovering from physical or mental traumas. About 120 pages long, book is concise and easy to read. Vijayan Pillai also discusses self-awareness, in a section on yoga in his book, which helps you understand how your body and mind functions in relation to the outer world.
The book is available for purchase on Amazon US, Amazon UK and Amazon India.
Media Contact
Company Name: BookBaby
Contact Person: Media Relations
Email: Send Email
Phone: 1-877-961-6878
Country: United States
Website: www.bookbaby.com