UV Gullas College of Medicine Aims To Transform Society offering top quality Medical Education – Dr.Herald Miller
Dr.Herald Miller top Education Consultant in India suggests Uv Gullas College of Medicine top ranking Medical College in Philippines to Indian Medical Aspirants to pursue medical education. Education has helped and continues to achieve betterment in many societies across the world. But, UV Gullas College of medicine aims at the transformation of society through medical education.
In most instances, social developments happened in societies only through education. But, UV Gullas College of Medicine thrives to transform society through medicine. Yes, the college aims to do this by providing medical education for creating the best doctors for society.
This Philippines Medical College has an expert team of study abroad consultants to make sure that medical education to foreign students also becomes possible through the strongest combination of education and economization at this college. Due to the best quality education students, who have passed out their medical education from this college are placed in different world destinations as doctors.
With the world-class learning facilities and the best medical education, this college has been identified as one of the top medical colleges in Philippines. The college operating from the Cebu City in the country encompasses one of the most affordable educational ecosystems besides ensuring premier study curriculums for future doctors.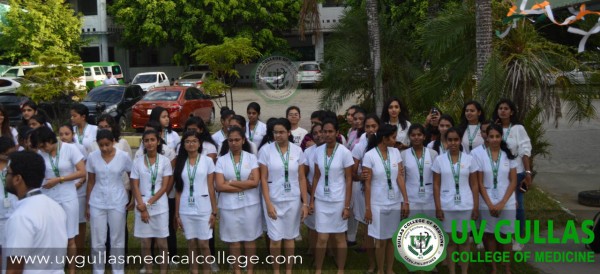 When talking about themselves, the management of the college says "At the University Of Visayas Gullas School Of Medicine, we prepare students to excel across global landscapes. As the Philippines is well known as Best country for MBBS course and most of the top medical colleges in the Philippines, UV Gullas stands top for Indian students in facilitating them with world-class infrastructure, quality in education with quality experienced professors from top hospitals delivering quality education to international students, rightly names as best medical college in the Philippines."
With the best education and infrastructure, the college has a good position in the Philippines Medical Colleges Ranking. The vision of the college is to make sure that every talented student gains the accessibility to high-grade and functional studies at affordable costs. The institute endeavors to improve educational reachability via the right strategies and innovation. Even, the college aims at improving the quality of life to deserving candidates.
About UV Gullas College of Medicine:
The college was established in the year 1919 and the institute holds the pride of being skillful as compared to the competition. The alumni of the college are proven achievers across different fields, thereby bringing pride to the institute. With this pride, the college aims at transforming society through medicine.
Media Contact
Company Name: UV Gullas College of Medicine
Contact Person: Dr. Herald Miller
Email: Send Email
Phone: 9944737004
Address:1st Floor, EJR Enclave Butt road, Near Bus-stop
City: Chennai
State: Tamilnadu
Country: India
Website: www.uvgullasmedicalcollege.com/