CCE's EnSuite ReVue reimagines Design Change Management

Users can manage design changes, automate BOM updates and generate ECNs without PDM.
Farmington Hills, MI, USA – September 13, 2023 – CCE, a leading provider of advanced CAD interoperability solutions, announced the latest update of its design collaboration software, EnSuite ReVue. With its latest update, ReVue offers users, especially of small and medium-sized businesses, the chance to efficiently manage design changes without investing in complicated and costly Product Data Management (PDM) software.
ReVue provides a new way of managing design changes, without PDM. It empowers everyone within the company and outside to discuss and manage CAD designs without the rigidity of PDM-like processes. There are no IT overheads or complicated installation and set-up associated with traditional PDM systems. With ReVue's rich graphical user experience, design changes can be understood and managed easily. Users can securely share 2D & 3D CAD designs and capture design feedback, track design changes in the context of the CAD and manage their designs by implementing their own design release process easily by accepting or rejecting changes and automatically update their Bill of Materials (BOM) and generate engineering change documentation (ECN) on-demand.
"While the obvious need and benefits of a PDM system in engineering organizations is undeniable, it can be onerous for small and medium-sized businesses. Even with products like SOLIDWORKS PDM that are focused on SMBs, there are significant IT overheads, process rigidity and cost implications that deter companies from adopting typical PDM systems. Such companies use a mix of spreadsheets, cloud storage and other procedural methodologies to manage design changes and generate engineering change order documentation. There are inefficiencies built into such an approach that are prone to errors. ReVue offers a unique way to address this problem," said Vinay Wagle, CCE's V.P. of Sales and Marketing.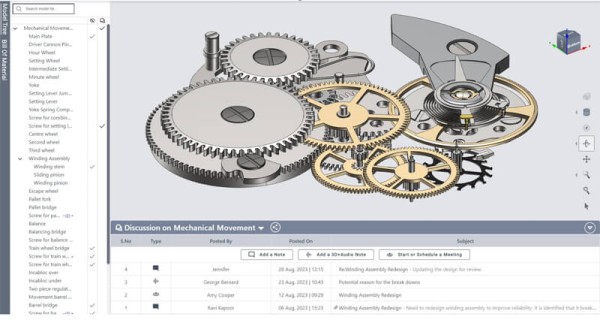 Some of the key benefits of using ReVue over a traditional PDM system includes:
• Manage design changes without rigid processes
• No IT set-up or implementation overhead
• Equal access to single version of truth for everyone within the company and outside partners & suppliers
• Rich graphic user experience to understand design changes easily & quickly in the context of the CAD design
Users can visit the EnSuite ReVue page to schedule a demo or submit their email to access a self-directed product tour.
About CCE:
Incorporated in Michigan, CCE has more than 30 years of CAD/CAM/CAE software development experience, as well as an extensive background in related services. Since 1989, CCE's focus on CAD technology & application development has spearheaded its mission to deliver customers value through innovative, disciplined, and communications-focused technology products and services. CCE has offices located in Farmington Hills, Michigan and Hackensack, New Jersey.
For more information on CCE's products and services, visit www.cadcam-e.com.
Connect with CCE on:
• Twitter – https://twitter.com/cadcame
• Facebook – https://www.facebook.com/cadcame
Media Contact
Company Name: CCE
Contact Person: Debankan Chattopadhyay
Email: Send Email
Phone: +1 (248) 932-5295
Address:32985 Hamilton Court, Suite 225
City: Farmington Hills
State: MI 48334
Country: United States
Website: www.cadcam-e.com