Exploring the Deception: Real Virgin Light Golden Blonde European Hair vs. Falsely Labeled Virgin Hair
Amidst the wig and hair extension market, Hairline Illusions' genuine virgin light golden and ginger blonde European hair shines for its purity and strength.

The quest for beauty and perfect hair has risen to a thriving market for wigs, hair systems, and hair extensions. Among the most sought-after options are virgin hair extensions, especially light golden and ginger blonde European hair, which boasts natural beauty and quality. However, the wig and hair system industry is not without its fair share of deception, as some sellers market processed hair as virgin hair, leaving consumers in the dark. In this article, we'll explore the critical distinctions between real virgin light golden and ginger blonde European hair and falsely labeled virgin hair. We'll also explore why some sellers are able to get away with such misleading practices and why real virgin golden and ginger blonde hair is more expensive, often costing more than $1,200 per collected and cut ponytail, from 6 to 21 ponytails needed to complete one wig or hair system depending on the head size and hair density. Additionally, we'll highlight Hairline Illusions' unique position as a reputable source that has been collecting raw virgin light golden blonde and ginger hair for over 20 years, possessing some of the rare hair in the world.
#Real Virgin Light Golden and Ginger Blonde Hair
Real virgin light golden and ginger blonde European hair, especially the kind offered by reputable companies like Hairline Illusions, is the epitome of quality in wigs, hair systems, and hair extensions. It is hair that has never been subjected to any chemical processing, including coloring, bleaching, perming, or chemical straightening.
Virgin European hair exhibits several key attributes:
Natural Purity: True virgin hair is untouched by chemicals, retaining its innate beauty, color, and texture, particularly the captivating light golden and ginger blonde shades.
Durability: Authentic virgin hair, when properly cared for, can maintain its quality for an extended period, making it a worthwhile investment.
Versatility: It can be dyed, styled, and treated just like your own hair, providing endless possibilities for customization while retaining its exquisite light golden and ginger blonde hues.
Minimal Maintenance: Compared to synthetic hair or processed alternatives, real virgin hair is less prone to tangling and requires minimal maintenance.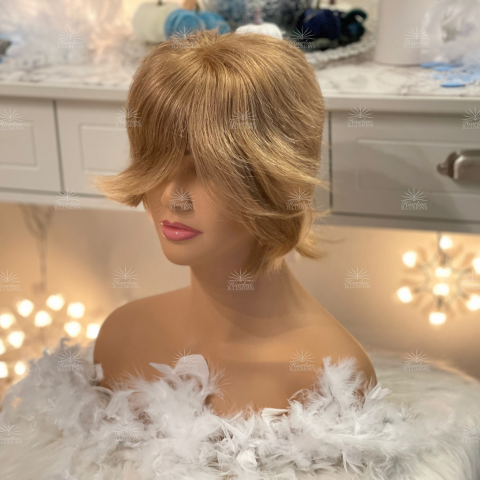 #Why Real Virgin Hair is More Expensive
The premium price tag associated with real virgin golden and ginger blonde hair can be attributed to several factors:
Authenticity: Sourcing authentic virgin hair in such unique shades is a meticulous process. It requires careful selection and collection of hair from donors who have never undergone chemical treatments and their nutritional diet.
Scarcity: Hair in these specific shades is relatively rare compared to more common hair colors, further driving up the cost.
Quality Control: Reputable suppliers maintain rigorous quality control measures to ensure that the hair is indeed virgin and unprocessed, adding to the overall cost.
Labor-Intensive Processing: The collection, sorting, and preparation of virgin hair for use in wigs, hair systems, or extensions are labor-intensive and time-consuming.
Customization: To create wigs and hair systems, several ponytails of virgin hair must be collected and cut to match the desired length and style, often requiring up to 12 ponytails for a single average-sized wig or hair system with 100% density.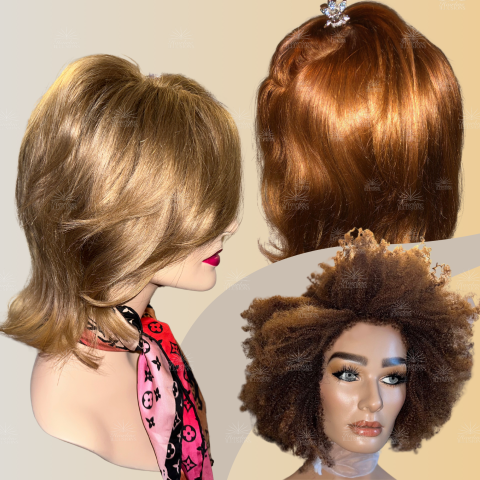 #Hairline Illusions: A Rare Source of Authentic Virgin Hair
Hairline Illusions has distinguished itself as a leading source of authentic virgin light golden and ginger blonde hair. With over 20 years of experience in collecting raw virgin hair, they possess some of the most rare and coveted hair in the world. This extensive experience, combined with a commitment to quality, allows them to offer customers genuine virgin hair that lives up to its reputation.
In the pursuit of beauty and confidence, consumers must educate themselves about the products they buy, particularly when it comes to wigs, hair systems, and hair extensions. Real virgin light golden and ginger blonde European hair, like what Hairline Illusions carries, offers unparalleled quality and authenticity. While the cost may be substantial, it reflects the meticulous sourcing, scarcity, and quality control measures necessary to provide genuine virgin hair in these unique shades. To ensure an honest purchase, it is essential to research and buy from reputable sources and demand transparency in labeling. As consumers become more informed and vigilant, the market for falsely labeled virgin hair may gradually diminish, holding sellers accountable for their deceptive practices. Hairline Illusions stands as a beacon of authenticity in a market that sometimes falls short of true quality and transparency in wigs, hair systems, and hair extensions, especially when using young human hair and collecting up to 12 ponytails to complete one wig or hair system.
Hairline Illusions can be reached at (866) 777-7567. They offer medical wigs, and more information can be found at https://tinyurl.com/3p3ntbv2 or by emailing [email protected]
Additionally, customers can visit their website at https://www.hairlineillusions.com and follow them on Instagram at https://www.instagram.com/hairlineillusions/.
Media Contact
Company Name: Hairline Illusions
Contact Person: Media Contact
Email: Send Email
Phone: (866) 777-7567
Country: United States
Website: hairlineillusions.com