Kayak Starved Rock Campground Has Come Up with the Best Kayaking On Illinois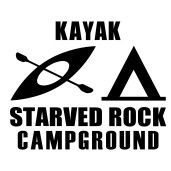 Kayaking the Illinois River from Kayak Starved Rock Campground in Starved Rock State Park is an excellent way to see the area. For those who are new to the sport, local outfitters provide kayaking instruction.
Ottawa, IL, USA – May 10, 2022 – Kayak Starved Rock Campground is located directly across from Starved Rock State Park, right on the Illinois River. Kayaking is offered for novices in this region. At this spot, you may hire high-end kayaks, go kayaking with a guide, and camp on the banks of the river. Perception Carolina's high-end single kayaks, which are twelve and fourteen feet long, are among the boats available for kayak rentals or the guided kayak tours. A search by campgrounds near me can offer you best results.
There are also high-quality Perception Cove 145T tandems available. It is possible to fit three people into these tandem kayaks, despite the fact that they only have two seats. A non-paddling third passenger would sit on the kayak's floor instead of the seat (on a pad). The third passenger must be 70 pounds or less. Searching by kayaking near me will be the best option t