Meibomian Gland Dysfunction Pipeline Insights, 2021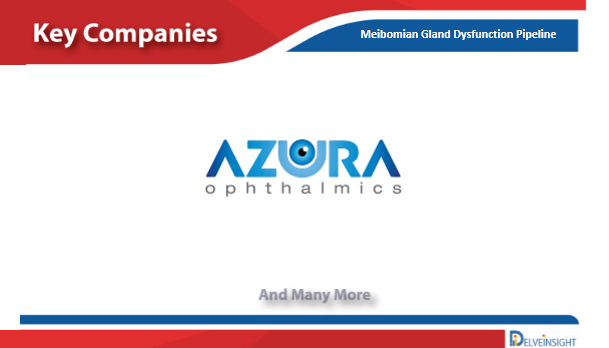 "Meibomian Gland Dysfunction Pipeline" report has been added to DelveInsight
Meibomian Gland Dysfunction Pipeline analysis across different stages of development (Phase III & Phase II), different emerging trends and comparative analysis of Meibomian Gland Dysfunction pipeline products with detailed clinical profiles, key cross-competition, launch date along with product development activities
DelveInsight's, " Meibomian Gland Dysfunction – Pipeline Insights, 2021," report provides comprehensive insights about 10+ companies and 10+ pipeline drugs in Meibomian gland dysfunction pipeline landscape. It covers the pipeline drug profiles, including clinical and nonclinical stage products. It also covers the therapeutics assessment by product type, stage, route of administration, and molecule type. It further highlights the inactive pipeline products in this space.
Download free sample copy- https://www.delveinsight.com/sample-request/meibomian-gland-dysfunction-pipeline-insight
Meibomian Gland Dysfunction Disease: Overview
Meibomian glands are the tiny oil glands present on the margin of the eyelids (the edges which touch when the eyelids are closed). These glands secrete oil which coats the surface of our eyes and keeps the water component of our tears from evaporating (drying out).
Meibomian Gland Dysfunction Pipeline Report
Meibomian gland dysfunction (MGD) refers to a condition where the Meibomian glands do not secrete enough oil or the oil they secrete is of poor quality. This causes because, the oil gland openings gets plugged up so that less oil comes out of the glands. The oil that does make it out of the glands can be granular (crusty) or otherwise abnormal, and can cause irritation.
Meibomian Gland Dysfunction Symptoms
Terminal duct obstruction
Changes in the glandular secretion
Eyelid margin foaminess
Hyperemia/telangiectasias
Changes in orifice position with respect to the muco-cutaneous junction
Meibomian Gland Dysfunction Diagnosis
The clinical diagnosis of MGD is often made using a combination of subjective symptoms and clinical signs. If asymptomatic, the diagnosis of MGD is only detectable by the presence of clinical signs. The most common clinically observable signs of MGD include MG dropout, altered MG excretions, and changes to the lid morphology with plugging or pouting of the MG orifice being the most pathognomonic sign of MGD. A simple, inexpensive technique to evaluate for MG dropout (partial or complete loss of MGs includes meibography by transillumination of an everted lid at the slit lamp. Infrared meibography has enhanced visualization of the MG, and there are now several commercially available meibographers for clinical use.
Meibomian Gland Dysfunction Treatment
Tetracyclines are bacteriostatic antibiotics used in the treatment of MGD primarily for their antiinflammatory properties rather than their antibiotic effects.
Azithromycin is a macrolide antibiotic that is used off-label to treat MGD. Macrolides provide predominantly Gram-positive coverage, inhibiting bacterial protein synthesis by binding to the 23S rRNA molecule of the 50S ribosome subunit. Azithromycin has been found to not only reduce the growth of lid bacteria, but also suppress bacterial lipases and conjunctival inflammation. Cyclosporine A, a calcineurin inhibitor available as a topical 0.05% emulsion (Restasis®, Allergan Inc., Irvine, CA, USA), was the first FDA-approved treatment for dry eye disease. Topical Lifitegrast ophthalmic solution 5.0% (Xiidra®, Shire, and Lexington, MA, USA) is the second and most recent drug approved by the FDA for management of dry eye disease. Essential fatty acids (EFAs) have been found to have anti-inflammatory effects, and oral supplementation with omega-3 fatty acids has been found to be associated with a change in the fatty acid saturation content in meibum.
Meibomian Gland Dysfunction Key Players
Bausch & Lomb
Azura Ophthalmics
Hovione Scientia
AxeroVision
Meibomian Gland Dysfunction Drug
NOV03
AZR-MD-001
Minocycline
AXR-270
Meibomian Gland Dysfunction Emerging Drugs
NOV03 is a drug that acts as lipid modulators. It is currently in Phase III and is being developed by Bausch & Lomb. The trial got initiated in October 2020 and is expected to get completed by September 2021 with estimated 560 enrolled participants.
AZR-MD-001: Azura Ophthalmics
AZR-MD-001 is a Phase II/III drug and is being developed by Azura Ophthalmics. The trial got initiated in July 2020 and was to get completed by November 2020 with estimated 30 enrolled participants.
Meibomian Gland Dysfunction Report Highlights
The companies and academics are working to assess challenges and seek opportunities that could influence Meibomian Gland Dysfunction R&D. The therapies under development are focused on novel approaches to treat/improve Meibomian Gland Dysfunction.
In September 2020, Bausch Health announced to acquire all ophthalmology assets of Allegro Ophthalmics.
Download free sample copy- https://www.delveinsight.com/sample-request/meibomian-gland-dysfunction-pipeline-insight
Following is the TOC of Meibomian Gland Dysfunction pipeline report
Introduction
Executive Summary
Meibomian Gland Dysfunction: Overview
Pipeline Therapeutics
Therapeutic Assessment
Meibomian Gland Dysfunction – DelveInsight's Analytical Perspective
In-depth Commercial Assessment
Meibomian Gland Dysfunction Collaboration Deals
Late Stage Products (Phase III)
NOV03: Bausch & Lomb
Mid Stage Products (Phase II)
AXR-270: AxeroVision
Early Stage Products (Phase I)
Drug Name: Company Name
Pre-clinical and Discovery Stage Products
Drug Name: Company Name
Inactive Products
Meibomian Gland Dysfunction Key Companies
Meibomian Gland Dysfunction Key Products
Meibomian Gland Dysfunction- Unmet Needs
Meibomian Gland Dysfunction- Market Drivers and Barriers
Meibomian Gland Dysfunction- Future Perspectives and Conclusion
Meibomian Gland Dysfunction Analyst Views
Meibomian Gland Dysfunction Key Companies
Appendix
What are the key questions answered?
How many companies are developing Meibomian Gland Dysfunction drugs?
How many Meibomian Gland Dysfunction drugs are developed by each company?
How many emerging drugs are in mid-stage, and late-stage of development for the treatment of Meibomian Gland Dysfunction?
What are the key collaborations (Industry–Industry, Industry–Academia), Mergers and acquisitions, licensing activities related to the Meibomian Gland Dysfunction therapeutics?
What are the recent trends, drug types and novel technologies developed to overcome the limitation of existing therapies?
What are the clinical studies going on for Meibomian Gland Dysfunction and their status?
What are the key designations that have been granted to the emerging drugs?
Media Contact
Company Name: DelveInsight Business Research LLP
Contact Person: Vinita Rakheja
Email: Send Email
Phone: 9193216187
Address:304 S. Jones Blvd #2432
City: Albany
State: New York
Country: United States
Website: www.delveinsight.com/