Prostate Cancer Pipeline, Clinical Trials and Emerging Therapy Assessment by DelveInsight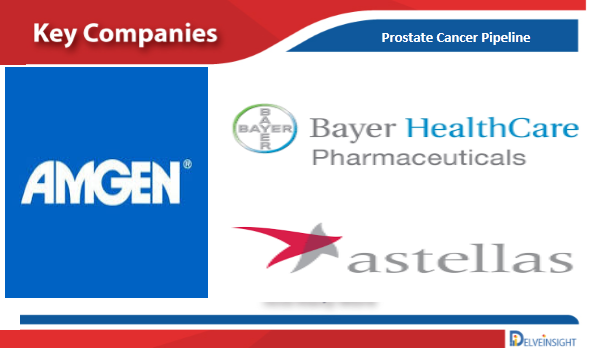 DelveInsight has launched a new report on Prostate Cancer Pipeline
Prostate cancer is a type of malignancy that occurs in the prostate gland, which is a part of male reproductive system. Prostate cancer is the 3rdmost prevalent type of cancer in the US and the fourth most common worldwide.
Request for free sample copy– https://www.delveinsight.com/sample-request/prostate-cancer-pipeline-insight
Prostate Cancer Pipeline analysis across different stages of development (Phase III and Phase II), different emerging trends and comparative analysis of Prostate Cancer Pipeline products with detailed clinical profiles, key cross -competition, launch date along with product development activities.
Prostate Cancer Pipeline
The available therapeutics treatment options in Prostate Cancer Landscape aims to provide cure to the patients suffering from this indication, however there are several challenges which are yet to be tackled. The dynamics of the Prostate Cancer market is anticipated to change in the coming years owing to the rise in numbers of company's taking interest in development of drugs for Prostate Cancer.
Marketed drugs included in the report
Xofigo (radium Ra 223 dichloride): Bayer Health Care
Xtandi (Enzalutamide): Astellas Pharma
Prolia (denosumab): Amgen
Erleada (apalutamide): Janssen Pharmaceutical
And many others
Emerging drugs included in the report
Lynparza (Olaparib): AstraZeneca/ Merck Sharp & Dohme
Opdivo (nivolumab): Bristol-Myers Squibb
177Lu-PSMA-617: Novartis
Relugolix: Myovant Sciences/Takeda
And many others
Prostate Cancer Treatment
Treatment options of prostate cancers include mainly hormonal therapies (also known as androgen-deprivation therapy or ADT), chemotherapy, immunotherapy, radiation therapy, and surgery. For localized or locally advanced prostate cancer has active surveillance, surgery, and radiation therapy is the three major treatment options.
Prostate Cancer Companies
AstraZeneca
Daiichi Sankyo
Abgenix
Orion Corporation
Pfizer
Bayer
Medivation LLC
Clovis Oncology
Laekna Limited
FutureChem
Foresee Pharmaceuticals
Mediolanum
Myovant
Taiho Oncology
Prostate Cancer Report Highlights
The companies and academics are working to assess challenges and seek opportunities that could influence Prostate Cancer R&D. The therapies under development are focused on novel approaches to treat/improve Prostate Cancer.
A New Drug Application (NDA) has been submitted to the FDA for once-daily, oral relugolix (RRVT-601, Relumina) at a dose of 120 mg as treatment of male patients with advanced prostate cancer by the company.
Takeda has granted Myovant an exclusive, worldwide license (excluding Japan and certain other Asian countries) to relugolix (TAK-385). Takeda will retain commercial rights for relugolix in Asian countries, including Japan, where is actively conducting two phase 3 registration studies for the treatment of uterine fibroids.
March 2019: Foresee Pharmaceuticals announces submission of NDA for FDA approval of LMIS 50 mg
Request for free sample copy– https://www.delveinsight.com/sample-request/prostate-cancer-pipeline-insight
Table of content
Introduction
Executive Summary
Prostate Cancer: Overview
Pipeline Therapeutics
Therapeutic Assessment
Prostate Cancer – DelveInsight's Analytical Perspective
In-depth Commercial Assessment
Prostate Cancer Collaboration Deals
Late Stage Products (Phase III and Preregistration)
Relugolix: Myovant
FP-001: Foresee Pharmaceuticals
Mid Stage Products (Phase II)
GX301: Mediolanum
Early Stage Products (Phase I)
Pre-clinical and Discovery Stage Products
Drug Name: Company Name
Inactive Products
Prostate Cancer Key Companies
Prostate Cancer Key Products
Prostate Cancer- Unmet Needs
Prostate Cancer- Market Drivers and Barriers
Prostate Cancer- Future Perspectives and Conclusion
Prostate Cancer Analyst Views
Prostate Cancer Key Companies
Appendix
Related Reports
Media Contact
Company Name: DelveInsight Business Research LLP
Contact Person: Yash Bhardwaj
Email: Send Email
Phone: +919650213330
Address:304 S. Jones Blvd #2432
City: Las Vegas
State: NV
Country: United States
Website: https://www.delveinsight.com/