Californian artist Konami Homi talks about blending peace and chaos in his genre-blending music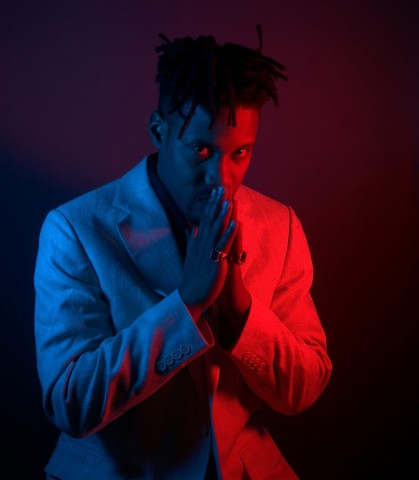 Konami Homi is the talented new Hip Hop and rap artist to look out for. Coming from the Inland Empire in California, the artist is known for his genre-blending music that mainly falls in Hip Hop and Rap category with a slight hint of R&B and Soul. In the words of the artist, his music is a balance between righteousness and ratchetness; peace and chaos; spiritual and physical.
In this exclusive interview, Konami talks about his musical journey so far, upcoming projects and more.
Interviewer: Give us a brief of your background and early life.
Konami Homi: I was born and raised in Southern California, my mom worked for the Museum of Contemporary Art in Los Angeles so I was raised around art and music basically my whole life. I was mostly a nerdy kid who fell in love with video games and movies but I had an older brother and sister who surrounded me with all types of music. My brother would play artists like DMX, Jay-Z, Jadakiss and then my sister would listen to artists like SWV, Boys II Men, and oldies. My dad brought nature and adventure into my life which gave me balance, I learned to be happy in the house with electronics and also be happy out in nature getting dirty and running with animals. He also played a lot of Jazz music, which had no lyrics just pure sounds that you could still feel emotionally. All these things molded me to who I am. Now I have my own son who has become extremely important to me and inspires me to continue and in return I want to inspire him to be great. But I guess that's a bit on my background, just a nerdy wild boy trying to make the world make sense.
Interviewer: What/Who inspired you to make music?
Konami Homi: I've always been intrigued by sound, from animation to film, and how music makes people feel, but what sparked the creation process was watching my friends' freestyle battles in high school and seeing the excitement people had over lyricism. It sucked me in and I fell in love with the art.
Interviewer: What kind of music you create?
Konami Homi: With my music, I want to convey the issues we have in society, issues within ourselves, and in our minds like doubt or lack of confidence. I want to convey that we are infinite inside and out and anything is possible. I want to convey that even in our darkest times those situations will only make us stronger and wiser. The world needs change and I hope to be that change I seek. Love and understanding is the only way to stop the chaos.
Interviewer: Tell us about your journey into the music industry so far.
Konami Homi: I started making music in 2006 with a high school friend. We were inspired by retro video games, jazz, anime, and comics which influenced our sound, lyrics, and even my rap name. As I learned how to produce and write better I started to create my own sound that still kept the feel of my emotions, the feeling of nostalgia, but also wanted to give a sound that felt new or futuristic and still genuine. Years later my continuous search for knowledge and spacey mind has led me to the sound that is official "Konami Homi." The journey has only begun and I hope to keep evolving.
Interviewer: Who are the artists you admire the most?
Konami Homi: The artists I admire the most and who definitely inspire my music would be people like Anita Baker, Sade, Erykah Badu, Outkast, John Coltrane, Kid Cudi, Curren$y, honestly so many from so many genres and classic artists because music is life and everyone has a different story to tell.
Interviewer: What are your upcoming projects?
Konami Homi: I have a project being released March 25th called "Neon Dynamite" and it's sort of a journey into the world of the rebellious heart, psychedelic mindset, the deconstruction of the ego and the rebirth of our original path. The sounds on this project all represent emotion, a balance of calmness and aggression. I want to say its a mix of electronic music like Drum n Bass, Techno and still keeps a hip hop undertone, it feels like the background music for a cyberpunk revolution. It's honestly just a rollercoaster of fun and I hope people vibe to it, and dance to it as much as possible.
Interviewer: Where can people listen to your music?
Konami Homi: My music is currently on any major streaming site from Tidal to apple music to Spotify. Just Google "Konami Homi" and give everything a listen, I have a vibe for everyone.
More information about Konami Homi can be found on his official website www.konamihomi.com/.
Instagram: https://www.instagram.com/konamihomi/
Media Contact
Company Name: MAD Studios
Contact Person: Arley Arsineda
Email: Send Email
Country: United States
Website: www.konamihomi.com