ByYaeli launches much-awaited holiday sale on its collection of beautiful geometric jewelry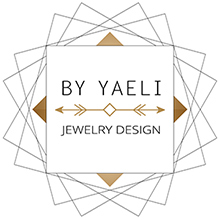 ByYaeli is a popular Etsy shop that offers an amazing collection of unique, minimalistic, geometric jewelry. The shop, established in 2014 has made over 5900 sales and has 5-star ratings from hundreds of customers. The shop has already launched its Holiday Sale and soon going to start the Cyber Monday sale, through which it is offering beautiful jewelry at up to 30% off and receive it just in time for Christmas and Hanukkah. The customers can find super unique earrings and necklaces such as Mandala necklace, Minimalistic necklaces, Origami necklaces, Geometric necklaces, geometric hexagon earrings, Silver shark necklaces and more.
One of the featured items on the shop is the wonder woman necklace featuring the Wonder woman symbol, perfect for gifting to spouse, mother, sister and any woman who is like a superhero in your life. The Origami goldfish necklace is another beautiful piece of jewelry that features a geometric cutout of a goldfish. The intricately cut pendant enhances the overall appeal of any outfit. This contemporary design is inspired by fish found in Japanese illustrations as well as Origami. The Geometric necklace collection features over 50 products, with striking geometric designs in various shapes, and angles like the rectangular necklace, hexagon necklace, triangle necklace, Three circle necklace and more. For the lovers of minimalistic necklaces, the shop offers tiny charm necklaces in nature and animal-inspired designs as well as letters of alphabets to choose from. Every jewelry piece by the shop comes in a signature gift box, so it is ready for gift giving.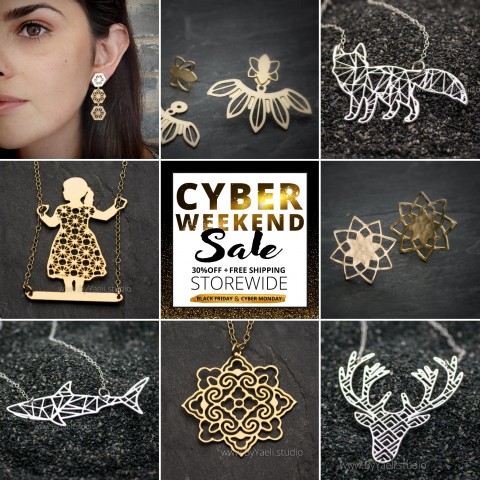 Yael, the owner of the shop is passionate about jewelry making and loves to create designs that are unique and minimalistic. As a trained art therapist, she began hand-making jewelry after realizing the importance of having an artistic outlet. After receiving great compliments and feedback from friends and colleagues, she decided to open her Etsy shop, ByYaeli, inspired by her nickname "Yaeli". Yael strives to create affordable designs that are classic and elegant. She draws her inspiration from everything that's beautiful be it a part of nature, trends, history, cultures or anything else. Her jewelry pieces are carefully crafted by hand and perfectly suit people of all ages.
ByYaeli's range of Hamsa necklaces is also quite popular among the customers. This category features delicate and intricate Hamsa pendants with ethnic patterns. Hamsa is basically an Arabic word meaning the number five but on the cultural aspect, these symbols are is a sign of protection, blessings, power, and strength. The Hamsa is said to protect against the evil eye. Hamsas often contain the eye symbol, depictions of the hand, the eye or the number five in Arabic. The customers can find Hamsa necklaces in gold, silver, in many patterns and styles.
With over 400 styles to choose from, the customers are sure to find what they are looking for at ByYaeli's Etsy shop. And if you can't find what you're looking for, you can get it custom made by requesting the shop owner.
See all the products at Etsy.com/ByYaeli.
Media Contact
Company Name: ByYaeli – Unique jewelry design
Contact Person: Yaeli Donenfeld
Email: Send Email
Country: United States
Website: www.etsy.com/shop/ByYaeli/