8-Year-Old Author Kamryn Smith's Inspiring Book "Be Free, Just Do It Your Way" Takes Center Stage at HBCU Classic
Eight-year-old author Kamryn Smith's book, "Be Free Just Do It Your Way," showcased at HBCU Classic, celebrates individuality and youth inspiration.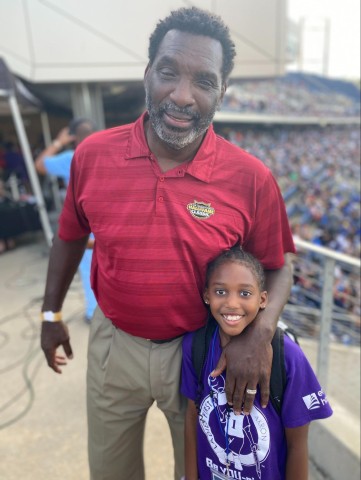 Eight-year-old author Kamryn Smiths' inspiring book titled "Be Free Just Do It Your Way" took the stage at the HBCU Classic showcasing remarkable literary talent and youthful inspiration. The event, held at the Pro Football Hall of Fame highlighted Kamryn's journey, as an author captivating hearts and minds by emphasizing the significance of embracing individuality and encouraging readers to stay true to themselves.
Kamryn Smith's journey is marked by remarkable highlights. At just seven years old, she published "Be Free Just Do It Your Way," inspiring children to embrace authenticity. Her book graced the Black College Classic's "Education Day," reaching 30 schools in Ohio and featuring revered institutions like Morehouse College and Virginia Union University. Kamryn and her family are passionately dedicated to empowering one million individuals by fostering confidence, well-being, and literacy through reading. During a Stark County Business Association Luncheon, Kamryn, alongside her sister and father, expressed their unwavering commitment to this mission. She had the privilege of meeting Doug Williams, co-founder of the Black College Hall of Fame, underlining the pivotal role of literacy. The Pro Football Hall of Fame and The Black College Football Hall of Fame set an example by prioritizing literacy, prompting other organizations to address the pressing issue of literacy rates in the United States.
Kamryn Smiths' journey as a published writer serves as an inspiration to everyone, showcasing the power of literature and the significance of embracing one's qualities. Her book, titled "Be Free Just Do It Your Way" truly reflects her creativity, wisdom, and her families commitment to positively influencing minds.
To learn more about Kamryn Smith and her book please visit Publishedat9.com.
Stay connected with Kamryn. Join her adventures, on social media platforms:
Instagram: @halloffameauthors
TikTok: @halloffameauthors
YouTube: @Halloffameauthors
For any media inquiries kindly contact us at [email protected].
About Kamryn Smith:
Kamryn Smith is an 8-year-old author who shares messages of individuality, confidence, and self-expression through her book "Be Free Just Do It Your Way." With her family, she strives to empower people to promote mental well-being and foster literacy by spreading the joy of reading.
Media Contact
Company Name: I-AM Possible Enterprise
Contact Person: Candace Smith
Email: Send Email
City: Akron
State: Ohio
Country: United States
Website: publishedat9.com