Fintrade Zone Presale Attracting Massive Attention, To Be The Next Ground Breaking Blockchain Technology.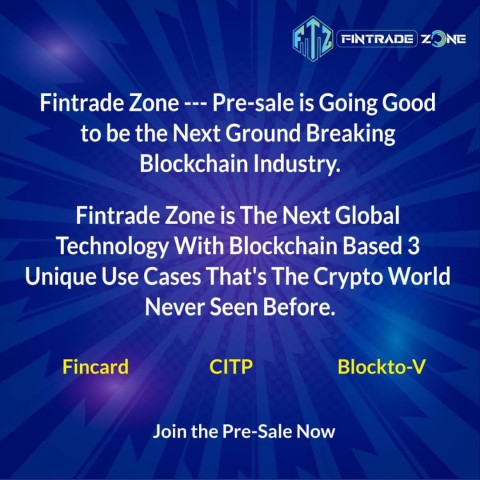 Fintrade Zone is pleased to announce its ongoing ICO presale, launched on April 2nd, 2023 which will run till June 11th, 2022. Although the presale is in its early stages, it has already garnered so much attention.
Fintrade Zone is a blockchain based business ecosystem, where several blockchain based business will be operated connecting it's community through FTZ token ecosystem.Fintrade Zone is a trending project that attracted much attention this year. Some even claim that it is 2023's most promising project. The company is building a platform based on Blockchain technology that will offer innovative services. The team stated that it would offer three unique use cases that are new to the Defi space. These are FinCard, CITP, and Blockto-V. The first one is EMV certified Smart Card compliance manufacturing unit that relies on blockchain technology. The second one is a Community owned profit sharing crypto investment & Trading platform. The company will ensure the community members get their share of the profits. The last one, Blockto-V, is a Cyber Security Antivirus. It is also blockchain-based and comes with a multi-malware detection engine.
Video Link: https://www.youtube.com/embed/Vfke036LJ7s
Use cases explained by FTZ Co-founder
The company also boasts a hot native utility token – FTZ. The Fintrade Zone team launched its ICO sale on April 2nd, 2023. It will end on June 11th, 2023. The fixed maximum supply of the FTZ tokens is 2000000000 from where 900000000 FTZ token allocated for pre-sale. Unsold token will be burnt also. The platform accepts USDT, BUSD, USDC and DAI in exchange for FTZ.
The team believes that its innovative products – EMV Certified Blockchain, Community Owned Institutional Crypto Investment and Trading Platform, and blockchain-based Cyber Security Antivirus Software will prove useful for millions of users worldwide. It will offer various incentives initially to attract users and show them how this project can bring them profit as the project aims to enable its clients to profit from crypto trading and investment. The platform will offer its own mechanism and advanced tools and features to increase its customers' chances. The team will also ensure that its platform is secure and risk-free. That's not an easy feat, considering the number of crypto scammers and hackers trying to take advantage of non-suspecting users. However, the Fintrade Zone team will take strict measures and incorporate a high-level security system to protect its users' funds.
Moreover, the team will ensure that Fintrade Zone will continue its development in the coming years. It aims to offer even more innovations in the future. Fintrade Zone Team is inviting all crypto lovers around the world to join it's pre-sale and enjoy all its benefits with massive earning through its unique use cases.
For more information, visit:
Website: https://fintradezone.org
Telegram: https://t.me/FintradeZoneX
YouTube: https://youtube.com/@fintradezone-official
Media Contact
Company Name: Fintrade Zone
Contact Person: Wong Leong Sang
Email: Send Email
Phone: +60189528923
Country: Malaysia
Website: https://fintradezone.org