African Artist Mr PRO Set to Release New Album "Tides of Afrobeats" on February 22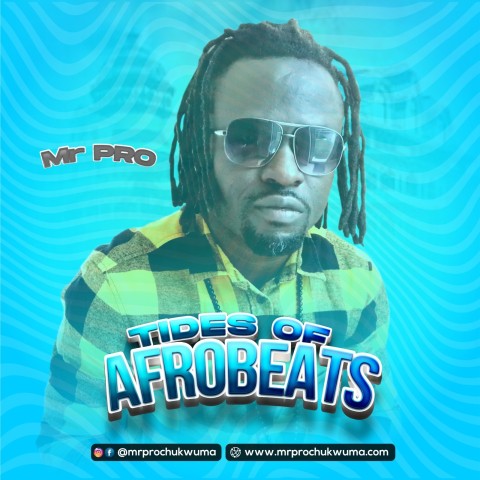 Mr PRO, the talented African artist known for his dynamic blend of Afrobeat and reggae music, is set to release his highly anticipated new album "Tides of Afrobeats" on February 22, 2023. With lyrics that explore love, intimacy, and social justice, Mr PRO's music is sure to captivate audiences and touch the heart and soul of listeners.
The album promises to be a powerful and evocative addition to Mr PRO's discography, which already includes his highly acclaimed debut album "Road to Biafra." With "Tides of Afrobeats," Mr PRO seeks to build on the momentum of his previous work, delivering a fresh and exciting sound that combines the best of African music with his unique vision and style.
One of the key themes of the album is the idea of unity and shared experience. Mr PRO draws on his own experiences and those of others to create music that speaks to the universal human experience. His lyrics are often poignant and thought-provoking, exploring complex issues such as race, inequality, and freedom, while also celebrating the joy and beauty of life.
The title of the album, "Tides of Afrobeats," is a nod to the influence and impact of African music on the global stage. With his unique blend of Afrobeat and reggae, Mr PRO is a testament to the power of African music to inspire and move people around the world.
In the lead-up to the album's release, Mr PRO has been building excitement and anticipation through a range of promotional activities. He has been sharing snippets of the new music on social media, giving fans a taste of what's to come. He has also been teasing the album cover and tracklist, which promises to be a diverse and exciting collection of songs.
Fans of Mr PRO's music can look forward to a range of new sounds and styles on "Tides of Afrobeats." The album features a mix of upbeat and lively tracks, as well as more introspective and contemplative pieces. Each song is a testament to Mr PRO's talent and creativity, as he pushes the boundaries of what is possible with his music.
As the release date draws closer, excitement is building among Mr PRO's fans and the wider music community. The album is sure to be a hit, and a powerful statement on the continuing importance of African music in today's world.
"Tides of Afrobeats" will be available for download on Mr PRO's website, as well as through a range of other online platforms.
For more information on Mr PRO and his music, visit
Website: http://www.mrprochukwuma.com.
YouTube: https://www.youtube.com/playlist?list=PLN_hndouIWcofvZCU0mBoC4QWv-O6kEOb
Media Contact
Company Name: Mr PRO Chukwuma
Contact Person: Mr PRO
Email: Send Email
Country: Germany
Website: www.mrprochukwuma.com/