How Flexible and Modular EV Platforms are Driving Electric Vehicle Innovation
Electric Vehicle Market by Component, Vehicle Type, Vehicle Class, Propulsion (BEV, PHEV, FCEV), Vehicle Drive Type (FWD, RWD, AWD), Vehicle Top Speed (125 mph), Charging Point Type, Vehicle Connectivity, End Use, Region – Global Forecast 2030
Increasing fuel prices and decreased emission limits have made electric vehicles a more attractive option in the last few years. According to International Energy Agency (IEA), though car sales dropped by ~16% during the pandemic, electric vehicle sales increased by 41%. According to the latest Global Electric Vehicle Outlook, electric vehicle sales, including battery electric & plug-in hybrids, doubled in 2021 and reached 6.6 million units. Despite the supply chain issues and recession across the European & North American region, EV sales rose strongly in 2022, with 25.5 million units sold in the first three quarters of 2022. According to IEA, globally, the number of electric cars on the road by 2021 was ~16.5 million, which is triple the amount in 2018. In China, electric car sales nearly tripled in 2021 to 3.3 million, accounting for about half of the global total. The global automotive industry is shifting towards a greener and more sustainable future, in which the automotive OEMs, system suppliers, and component suppliers are investing in innovations and technologies that comply with the changing regulatory landscape. Below is the graph showing electric vehicle sales across the globe.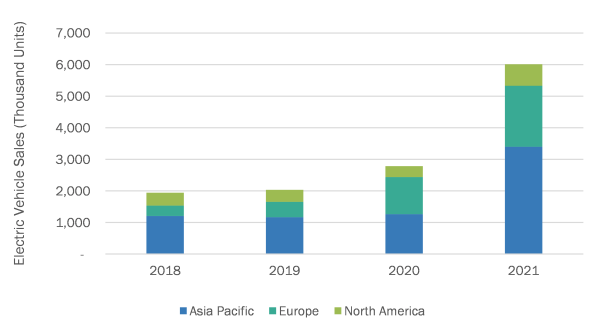 Download PDF Brochure @ https://www.marketsandmarkets.com/pdfdownloadNew.asp?id=209371461
GROWTH OF ELECTRIC VEHICLES
The key reason behind this growth in EV sales is a supportive regulatory framework and government initiatives to promote EV sales with attractive subsidies. To elaborate on the regulatory framework further – various countries worldwide have set targets to reduce vehicle emissions by 2050 by developing & selling EVs and related charging infrastructure. For instance, the US government invested USD 5 billion in 2017 to promote electric vehicle infrastructure, such as charging stations. Some countries have announced to ban the sale of ICE Vehicles for the next 8-10 years. For instance, European Union (EU) has banned the sale of new petrol and diesel cars from 2035 in member countries.
Several governments are providing incentives such as low or zero registration fees and exemptions from import taxes, purchase taxes, and road taxes to adopt EVs. Vehicle emission regulations in the US, Europe, and China compel automotive OEMs to develop and manufacture more electric vehicles and encourage consumers to buy them.
Electrification targets by countries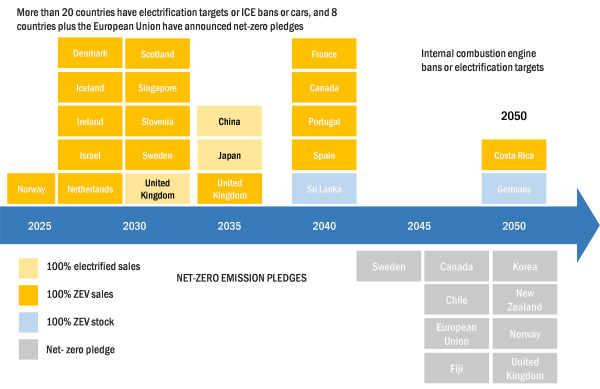 NEED FOR ELECTRIC VEHICLE MODULAR PLATFORM
The demand for EVs to date was 40-50% YOY growth. According to IEA, EV sales are expected to touch 230 million units by 2030. This increase in electric vehicle sales from thousands to millions would pressure EV manufacturers. The automotive industry is working on connected, autonomous, shared, and electric (CASE) mobility. The automotive OEMs are developing their conventional platforms to accommodate electric vehicle components such as batteries and motors. The electric vehicle is not equipped with a gearbox, engine, and fuel tank; hence the engine space, fuel tank space, and gearbox space can be utilized for other applications.
The modular EV platforms are multifaceted and flexible with various vehicle types such as sedan, hatchback, SUV, and utility vehicles that can be built on a single platform, which saves time, effort, and cost required to launch new electric vehicle models. The shape and size of the bodywork and chassis can be differentiated to meet various requirements, from a hatchback to a luxury model, a pick-up truck, a bus, and an off-road construction vehicle. All these vehicle types can be implemented using variants of the EV platforms at a fraction of the cost of normal vehicle design.
The EV platform is designed so that the EV battery packs are installed under the floor, electric motors are placed between tires, and a thermal management system is placed in the sidewalls and bottom of the platform. Various companies are developing the EV platform, including battery, suspension, brake, steering, thermal management, motor, and other components. For instance, In September 2022, Williams Advanced Engineering launched an extremely performance new electric vehicle (EV) platform. The platform consists of a central carbon fiber structure, battery pack, steering, adjustable sub-frames, and motors.
High cost is required to develop an electric vehicle modular platform; the excessive flexibility this platform offers will offset this investment through economies of scale. Moreover, the initial investment, effort, and amount of time required to develop and manufacture different battery electric vehicles on an EV platform are comparatively less compared to other platforms. According to Honda Motors, developing one EV model requires about USD 455 million, with batteries alone accounting for about 40% to 50% of the production cost. Converting production lines to cater to EVs costs about USD 73 million to USD 110 million per factory.
Request Free Sample Report @ https://www.marketsandmarkets.com/requestsampleNew.asp?id=209371461
WHO'S LEADING THE PACK?
Various automotive OEMs are collaborating to develop EV platforms and reduce the cost required to develop the EV platforms. For instance, in 2021, Honda and GM collaborated to develop the EV platform and will be able to standardize motors, batteries, inverters, and other key components. In May 2022, Mahindra & Mahindra Ltd. It is collaborating with Volkswagen AG to use the Volkswagen AG EV platform named "MEB" electric components for Mahindra's new "Born Electric Platform." The MEB EV platform electric components such as electric motors, battery system components, and battery cells will be used in the Mahindra EV platform. These collaborations help to bring cost savings through ordering large quantities of the same parts.
SOME OF THE RECENT EV PLATFORM INNOVATIONS
REE: REE developed its modular EV platform that supports all mission specific EVs from class 1 to class 6. The company has developed a wheel named as REEcorner, which integrates steering, braking, suspension, powertrain, and control. The wheel is attached to the platform, giving more interior space. The REE corner also controls all the corner-level functions, such as drive-by-wire, steer-by-wire, brake-by-wire, and control modules for quick servicing. REE has collaborated with Hitachi, Hino Motors, AAM, Mitsubishi Corporation, and Mushashi to develop the technology and EV platform and empower them in the e-mobility space.
MARKETSANDMARKETS ANALYSIS
As mentioned earlier, apart from the capital investment challenges faced by the industry, another challenge would be a possible ban on EV sales in European countries owing to the growing energy crisis. Otherwise, the demand for EVs is growing globally. With the development of modular platforms for EVs, Automotive OEMs can develop a flexible supply chain to meet the increase in EV demand. The modular platforms would not only help the OEMs reduce production times but also help in improving their profits. Furthermore, partnerships between EV platform manufacturers and automotive OEMs can reduce cost, profitability issues, and the burden of R&D, tooling, and plants without impacting choice in model variants. The growth in the EV platform market would also create opportunities in adjacent markets such as drive-by-wire (steer-by-wire, brake-by-wire, fly-by-wire, etc.) as these systems would create more space for cabins.
View Detail TOC @ https://www.marketsandmarkets.com/Market-Reports/electric-vehicle-market-209371461.html
Media Contact
Company Name: MarketsandMarkets™ Research Private Ltd.
Contact Person: Mr. Aashish Mehra
Email: Send Email
Phone: 18886006441
Address:630 Dundee Road Suite 430
City: Northbrook
State: IL 60062
Country: United States
Website: https://www.marketsandmarkets.com/Market-Reports/electric-vehicle-market-209371461.html