Dr. Ronda Hampton is releasing her book series to educate about the safety of kids on Feb 13
Dr. Ronda Hampton is a clinical psychologist and an advocate for justice for Mitrice Richardson.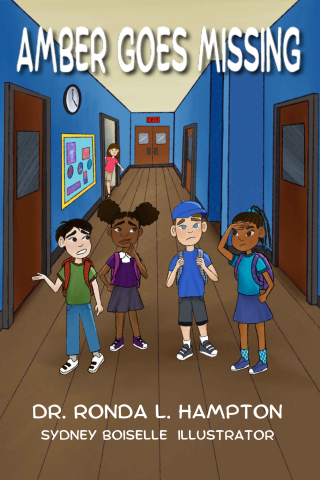 Dr. Ronda Hampton is among the leading clinical psychologists in California. She is a privately practicing psychologist in Diamond Bar, California and co-founder of REACH for Mental Health Awareness, a nonprofit organization that spreads mental health awareness and assists families searching for their missing loved ones. Dr. Hampton is a strong advocate for justice for Mitrice Richardson, a 24-year-old African-American woman who went missing from Malibu, California, on September 17, 2009. She is also co-producer of the award-winning documentary Lost Compassion: The Mitrice Richardson Story.
Inspired by the disappearance, search, and death of Mitrice Richardson, who also worked as a psychology intern at Dr. Hampton's private practice, Dr. Hampton has created The Skool Kids book series, which will work as a practical guide to keep kids safe from perils and teach children about safety. The central characters of this series are Amber Dubois, Jeremy Lum, Mitrice Richardson, Phylicia Barnes, and Wesley Tracy, whose lives profoundly touched Dr. Hampton.
The first book in The Skool Kids book series is Amber Goes Missing and is intended for children ages six through ten years old. Amber Goes Missing is centered around the book character Amber who strays away from her friends on the way home from school and is faced with making decisions about her safety. The book character was inspired by Amber Dubois, a 14-year-old who went missing from Escondido, California, in February of 2009. John Albert Gardner III, an American convicted double murderer, rapist, and child molester, confessed to Amber's rape and murder in March 2010. This book will enlighten children about the importance of considering their safety in public places. Amber Goes Missing communicates the importance of not venturing too far from one another and remaining in groups whenever possible.
Dr. Ronda Hampton claimed, "Child safety is of the most overlooked matters that have an utmost importance in these times." She added, "All kids must be safe no matter where they live or to which cultural background they belong." The Skool Kids book series will fill the missing information gap in this context. Amber Goes Missing will be available for pre-order on Amazon on February 13, 2023, in honor of the anniversary of the disappearance of Amber Dubois.
Learn more at: https://theskoolkids.com/
Get the book on Amazon: https://www.amazon.com/dp/B0BVF4W4TP
Follow The Skool Kids on Social Media:
https://twitter.com/theskoolkids
https://www.instagram.com/theskoolkids_/
About Dr. Ronda Hampton
Dr. Ronda Hampton, Ph.D., is a Clinical Psychologist in Diamond Bar, CA. The Skool Kids is a book series introduced by her in which the kids and the content creators share essential life lessons about keeping themselves and each other safe.
Media Contact
Company Name: The Skool Kids
Contact Person: Ronda L Hampton, PhD
Email: Send Email
City: Diamond Bar
State: California
Country: United States
Website: theskoolkids.com